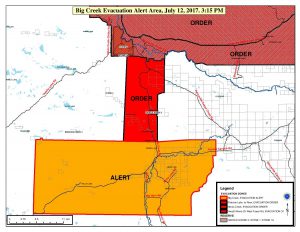 The latest evacuation order issued Wednesday is South of the Chilcotin River to Fletcher Lake, with an evacuation alert issued for Big Creek.
Al Richmond is the Chair of the Cariboo Regional District.
"This is the result of fire changing direction somewhat anticipated wind activity further to west of Williams Lake. We have roughly 34,380 included in our total affected in the region right now."
Richmond says that's an area of about 11,000 square kilometers under an evacuation order or alert.
An evacuation alert for the City of Williams Lake and surrounding areas remains in place.
Director of the CRD Emergency Operations Centre Darron Campbell says that they get regular weather briefings from the Cariboo Fire Centre and that some of the weather patterns that were potentially going to arise over Wednesday were a bit less than expected.
"The message I got from their information was there's a fair bit of uncertainty in the medium term and I think that does have some concern for us. Definitely, towards the weekend some more cold fronts that are coming in and bringing with it some stronger wind patterns so you know that got our attention."
Campbell says most of those weather patterns seem to be out in the western part of the region-in the Chilcotin and in the North Cariboo.
ESS Coordinator Dave Dickson says over 12,000 people have registered at the Lake City Secondary School Carson Campus so far with over 1,300 today.
He says they will be closing tonight at 11 pm and reopening Thursday at 8 am.
The City of Williams Lake said on Tuesday should an evacuation Order ever be issued those that can self-evacuate should follow the instructions given in the Order and register at the Emergency Social Services Reception Centre indicated in the order.
"Depending on which highways are open at the time this will likely be in either Prince George or Kamloops."
For those persons not able to self-evacuate the City has been divided into 12 zones and each has a muster point. If an evacuation order is issued buses will wait at these muster points as long as possible and will transport people out of the evacuation area. You must make your way to these muster points as soon as possible as buses cannot wait indefinitely.
"If you are physically unable to make your way to the muster point, even with assistance from family or friends, you MUST now identify yourself to the EOC by calling 250-392- 2364 or 250-392- 2365. If you do not self-identify we will have no way of knowing your require assistance," the City stated.
Evacuation Muster Zone Maps and other emergency information is available on the City website at
or can be picked up in person at the Emergency Operations Centre (EOC) located at the main Fire Hall in Williams Lake on South Lakeside Drive.
183 fires, 12 of which were new, had burned across the province Wednesday.