Chair of the Cariboo Regional District Al Richmond confirmed at 7:30 am Sunday, July 9 that the community of Horsefly is not being evacuated.
"We've had an erroneous report on media that the community of Horsefly is being evacuated and that's not the case so we ask the people to please be calm. We're trying to contact that media outlet and put in the correction," explains Richmond. "At this time there is no need to evacuate the community of Horsefly-there is no complementation of even evacuating."
"We had to evacuate Alexis Creek late last evening, early this morning. We're continuing to monitor the situation."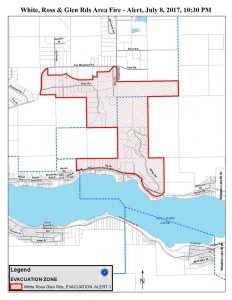 The Cariboo District Emergency Operations Centre which opened around 7 this morning says overnight the smoke in many areas has increased and are recommending for public safety that people who don't need to be on the roads to please stay home.
An Evacuation Alert has been issued for the White Road, Ross Road, and Glen Road area.