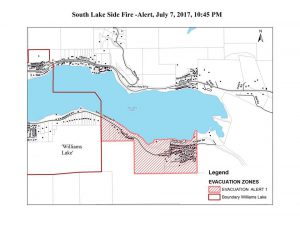 South Lakeside on the outskirts of Williams Lake is now on evacuation alert.
That area was added at around midnight for folks on both the City of Williams Lake and the Cariboo Regional District sides.
Those on the City side should report to Lake City Secondary School.
The City of Williams Lake, meanwhile, at last report was monitoring the nearby wildfires.
An emergency operations centre has been set up at the fire hall.
While there is just an evacuation alert in 100 Mile House, Interior Health has decided to evacuate it's facilities due to the Gustafson North wildfire just in case.
It effects acute care patients from 100 Mile Hospital as well as residents from two residential care sites, Mill Site Lodge and Fischer Place, and assisted living clients at Carefree Manor.
Acute care patients will be taken to Royal Inland Hospital in Kamloops while the others will go to various facilities in Kamloops, Salmon Arm and Merritt.
Many areas in the Cariboo have been evacuated today.
That includes a portion of 150 Mile, Miocene, 103 Mile, 105 Mile, 108 Mile, Wildwood and the west side of Lac La Hache.
The east side of Lac La Hache remains on alert.
CRD Chair Al Richmond says most people have now left the Sugarcane reserve as well and in the North Cariboo Quesnel RCMP went door to door in the Alexandria area to advise residents to leave for their own safety, although no evacuation order is in place.
Sargeant Darren Dodge noted that the fire near the Alexandria First Nations reserve was a major concern though, because fires are actually burning on both east and west sides of the Fraser River.
He says they are being asked to go to the Rec Centre in Quesnel on North Star Road.
The province has declared a state of emergency because of all the wildfires in BC.