Fires continue to be monitored in the immediate area, with the City of Williams Lake activating its Emergency Operations Centre.
Mayor Walt Cobb says with all the fires surrounding us and with what is happening, they had to prepare should it come in City boundaries.
"It's all set up with command stations and what not. There's communications people, there's people to communicate with the Cariboo Regional District because they're outside City boundaries right now. It's just a command centre so if we need be we can contact everybody."
Cobb says the Fire Centre had to have been evacuated out at the Airport in which a fire raged there this afternoon and understands that it is under control.
The City of Williams Lake asks that everyone please refrain from sprinkling, or using water in large volumes, until further notice. This will ensure that there are sufficient water reserves for firefighting should they be required.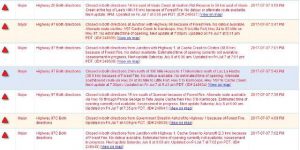 Evacuations orders as of 7:30 pm Friday, July 7 have been issued for the 103, Micocene Area, Wildood, and Deep Creek.
100 Mile House is currently under an evacuation alert.
Forest Fires have closed parts of Highway 97 and Highway 20 in both directions.