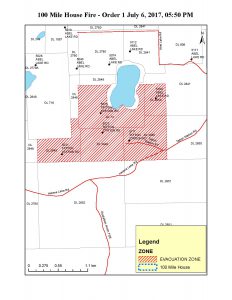 An evacuation order has been issued for five properties in the South Cariboo due to a wildfire that continues to grow northwest of 100 Mile House.
Cariboo Regional District Chair Al Richmond says five families are effected in the Tatton Road/Abel Lake area.
He says it is what's called a "tactical" evacuation…
"Not because the fire has moved that far but because spotting fires have caused fires that cause concern for these properties and we have set up an emergency reception area at the curling rink in 100 mile house for folks who are out of their homes at the momment.":
Richmond says no one else needs to be evacuated at this point, contrary to what some people are saying…
'We have had people doing considerable work, one fellow in particular, driving around the 103 and 108 communities telling people they have to get out. That's not helpful, they don't have to leave their homes and i'm not sure of the motives around that so we've reported that to the RCMP."
Richmond says they only ask people or put them on alert if the situation warrants it and that is done in conjunction with the Forest Service and the Cariboo Fire Centre when they predict what the fire behavior will be and we take the precautionary steps necessary to protect human life.
He says it is very difficult to say at this point if more evacuations will be needed…
"We're on a high state of readiness. Our EOC is open in Williams Lake, we'll be open really late tonight. It will all depend on what winds do and what spot fires start."
The fire that was just 2 hectares this morning has now grown to 380 hectares at last report.
Richmond says they are throwing everything at it at this point, including skimmers that are taking water from Watson Lake and a Bomber that is putting fire retardant on it.
They plan to work until dark.