The former building that housed the Museum of the Cariboo Chilcotin will be renovated to become the new location of Jubilee House.
Executive Director of the Canadian Mental Health Association Cariboo Chilcotin Branch, Ian McLaughlin says it was quite a challenge finding a new place and that by working together with the City and Vantage Living they were able to come up with the plan.
"That was one of the options," McLaughlin says of staying where they are currently located at the north side of the Cariboo Lodge site. "Unfortunately due to a gas line that runs under 4th Avenue and beside the Cariboo Lodge we weren't able to do that. Because of that gas line the whole building has to come down."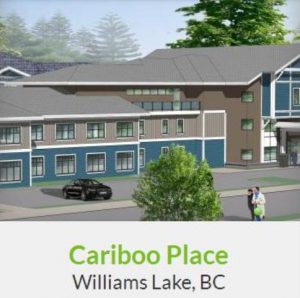 McLaughlin says Vantage was very good at making sure that what they have now, they will have in their new location and that it will be renovated over the summer.
Chief Operating Officer of Vantage Living formerly called  Insite Hospitality and Health Services Inc, Darlene Haslock says the move of Jubilee House will hopefully take place by September 1st with the construction of the 72 care bed facility-Cariboo Place starting in October of this year.
She says a demolition crew is currently doing all of the internal work of the Cariboo Lodge.
"If everything goes according to plan then we would be looking at September-October 2018," Haslock says of the completion of Cariboo Place.  "It all happens very quickly. We have a contracting company that we do for all of our builds but what they do when they go into an area is hire a lot of folks locally."