Highway 20 has officially reopened to traffic in both directions, 25 kilometers southwest of Williams Lake, following a significant washout near the Sheep Creek Bridge last week.
The Highway reopened Friday, June 30 at noon.
"Both lanes will be open. It will be a gravel surface for the short term and we will have speed reduction in place because of that, but it will be two-way traffic," says Todd Hubner, Regional Manager for the Ministry of Transportation and Infrastructure.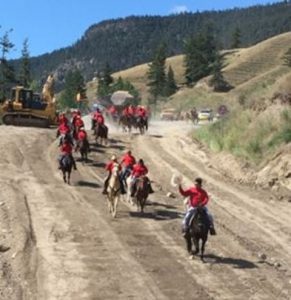 Ministry crews have been working to reconstruct a 75-metre section of the highway and embankment. Two thousand dump truck loads of material was trucked to the site to assist with the reconstruction and a new culvert and drainage infrastructure is now installed to address the subsurface water conditions that led to the failure.
"The highway embankment failed due to a combination of factors including a number of natural springs in the area and a high groundwater table," said the Ministry of Transporation and Infrastructure.
"Local ministry staff and the ministry's maintenance contractor, Interior Roads Ltd., will be regularly monitoring the site over the coming months."
The ministry says they would like to thank motorists and the communities/businesses that are serviced by Highway 20 for their patience and understanding while these repairs were underway.