The Xeni Gwet'in Wagon Trip will stand together and continue their journey to the Williams Lake Stampede following what is being called a freak accident in which a wagon lost control plunging and rolling approximately 40 feet down an embankment.
Gailene William said on Facebook that their head wagon boss team and wagon ended up going over an embankment coming down Farwell Hill. She says there were 8 people on the wagon, 2 drivers and 6 passengers. There were also only 2 horses involved, not 6 as initially reported by Williams Lake RCMP.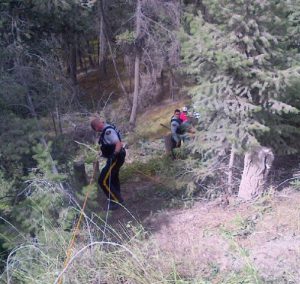 Fortunately, all the individuals involved in this accident were conscious when rescuers arrived, says Corporal Madonna Saunderson, spokesperson for the RCMP in the North District. Our police officers and Emergency Health Services worked together to stabilize the injured and secure them on stretchers. Then because of the steep slope, they used ropes and a winch from the police car to bring them safely to the road.
Saunderson notes that four people received non-life threatening injuries and two others who were injured were able to walk up the slope. Some of the injured people were treated at hospital for injuries that have been described as non-life threatening. However, one person has been admitted to hospital in serious condition. One of the horses also had to be put down after receiving permission to do so from one of the elders involved in the ride
"One thing we've learned today is what a resilient community we have. Everyone rallied and worked together to ensure the safety of all of the members that were on the ride. The outstanding support we received from neighboring communities is greatly appreciated," William said.
"The committee along with everyone who is on the ride had a healing circle this evening at camp to discuss the days events. Roy Mulvahill the head wagon boss who was involved in the accident urged the group to carry on with our trip. So standing altogether that is what we will be doing. We will carry on."
The group is anticipating to go from Meldrum Creek to Williams Lake for the first day's rodeo tomorrow (Thursday, June 29).