A photographer who has been on a mission to unite the second largest country in the world through the portraits of everyday Canadians was at the Williams Lake Tourism Discovery Centre Wednesday.
Tim Van Horn with the Canadian Mosaic project has crossed Canada six times and photographed 54,000 Canadians in the past 9 years.
"I'm just trying to keep the Canadian identity updated, to create something that's authentic and present it in a fashion that's inspirational. In these times, these global times of division, segregation, and racism, we need to keep Canada Canada."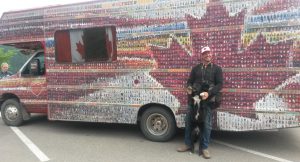 Van Horn says Wednesday marked his second time in the Lake City and that it was more a energized environment being National Aboriginal Day.
"Last time I was here (2015) I was just on a street corner in an alley and stopping people randomly and..it's a feverish pitch today, it's a really important celebration for our national identity so it's completely different. Canada is this country where you can travel it in all these different seasons and go back to the same town and it will be a completely different cast of characters and set of circumstances much like life you know. Life is a beautiful unraveling story and so the next I'm here in Williams Lake I'll experience it in a different light completely and that's what my message is."
Van Horn does admit however that he has received negative feedback on the project as not everyone identifies themselves as being Canadian.
"Especially the First Nations, especially with the 150th birthday, a lot of people don't feel a part of that. I say to them this is the start of a new chapter, this is the new Canada and let's leave the old Canada behind. So this is your time to voice your opinion, to be represented."
Van Horn says there are some people who also do not believe in a country of any form and don't like government.
He says despite this most of those people who started out negative, end up lending themselves to the project and have their picture taken.
Between 80-100 portraits were taken in Williams Lake with Van Horn giving out a postcard with directions on how to find your photo online.
The Canadian Mosaic mobile pavilion's next stop is today in 100 Mile House at the South Cariboo Visitor Centre from 9 am until 2 pm.