On the eve of National Aboriginal Day, Quesnel City Council and the Lhtako Dene First Nation took part in a special recognition ceremony last night.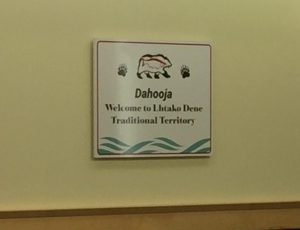 Mayor Bob Simpson and Chief Clifford Lebrun also signed a Memorandum of Understanding.
Mayor Simpson says embedded in that is formal recognition of the traditional territory of the Lhtako Dene on civic properties…
"That will be permanently displayed in council chambers but we will also be lacing it in city hall entrance, in the visitors centre and at our airport."
Plans are also in the works for a plaque to go up at GR Baker Hospital as part of an agreement with Northern Health and the North Cariboo Joint Planning Committee will be asked to put plaques up at recreation facilities that the City and the CRD share.
The Lhtako flag will also be flown at the Visitor Centre.
Chief Lebrun noted that both were very much appreciated…
"And this recognition goes a long way to healing a lot of the wounds that have happened over the years. Another thing is the people are going to be really proud when they see these symbols throughout the city."
Lebrun adds that it is also a big sign of respect that can lead to a better relationship and partnerships.
Mayor Simpson noted that they were already working with Urban Systems to put an application into the rural dividend fund to put an application into the rural dividend fund to begin the design for a Letahko Dene Cultural Centre, hopefully somewhere on the Quesnel or the Fraser and in particular where the confluence of where those two rivers are.
Prior to all of the formal proceedings in City Hall a smudging ceremony was held outside on the front lawn.
Cariboo North MLA Coralee Oakes was also present at all of the proceedings along with members of the Cariboo Regional District and Quesnel's Board of Education.