The community of McLeese Lake has another carving at their information centre.
Steve Forseth is the CRD Director for Area D.
"Howie Chamberlin who's a local community volunteer had approached myself to get funding to get these projects off the ground. The regional district gave $4,000 towards this project. The Central Cariboo Arts and Culture Society also chipped in some dollars, there's an in-kind that went towards it."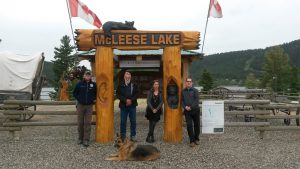 Forseth adds that the Mcleese Recreation Commission who manages the community hall gave some dollars as well for the carving which was designed by Chamberlin and carved by Pete Ryan.
"It attracts people to come and visit one of my home communities and it helps to keep unincorporated communities like McLeese Lake revitalized. I'm hoping if all goes well we'll see a third carving in downtown McLeese Lake sometime in 2018 along with a mining mural."
You can find the carving behind the info centre which is maintained by the community and has an entrance archway carved last year by Ken Sheen. It's located beside the Oasis Pub & Kitchen.