A private members bill on PTSD will be up for third reading in the House of Commons today.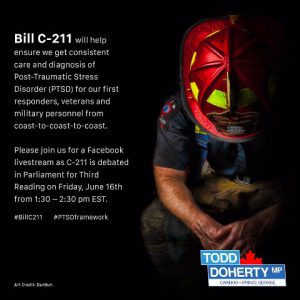 Cariboo-Prince George MP Todd Doherty says it will be an emotional day.
"I start speaking at about 1:30 eastern time and then we will see how the debate goes. We're hopeful that it will collapse. There will be first responders, veterans, and military in the gallery; one of the mothers of the one of the paramedics that passed away last week, we believe that she's going to show up."
Today's third reading is scheduled to be live streamed on Facebook from 1:30-2:30 pm EST.