Thousands of artifacts from arrowheads to flakes of the waste product from making them and more continue to be discovered through the four-laning project of Highway 97 near the Williams Lake Indian Band.
Whitney Spearing is the Band's Natural Resources Coordinator and archaeologist for Sugar Cane Archaeology.
"We've known that there were archaeological sites there. During the AIA (Archaeological  impact assessment) process, we found 31 sites and since the monitoring started another 8 sites in addition."
"We have 8 individuals working for us right now and they've been out there since last year working full-time seven days a week. Basically everywhere you see Ministry of Transport working, we are following behind looking for artifacts…We have an arc pit which is down sort of in the gravel pit there. There's like 6,000 cubic meters of earth that was skimmed off the top of a known archaeologic site that we've been sifting through. So when we're sifting we discover about 10 artifacts per screen."
Spearing says although it is unfortunate that it is salvage archaeology they are really lucky that MOTI has given money and free sources to do more archaeology, and that Cantex has been working with them taking ground surface off 10 centimeters at a time.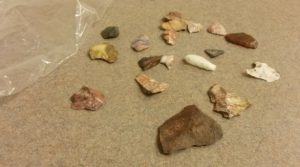 "They say for every 1 hour of field time, there's 4 hours of paperwork and that does end up being true. We bring all the artifacts back to the lab and clean them, catalog them, and really take a look at what they represent in terms of the entire assemblage. So some of the smaller flakes may just look like flakes to begin with but as you take a look at them some of them end up being micro blades and scrapers, and things like that so they have a little bit more value than what we originally thought."
Spearing says once the project wraps up which is anticipated in November, they will continue to pull surface artifacts wherever they find them.
"Essentially the collection that we have discovered, we'll be able to maintain at the Williams Lake Indian Band new office (#301- 172 North Second Avenue). They're all in federal jurisdiction so we don't have to send them away to a museum so it's great that we get to keep them in-house."