Officials gathered Wednesday afternoon to receive a tour of Phase I of the Sam Ketcham Pool Project which is nearing completion.
Many taking part in the tour noted how the pool seemed much larger than before. However, as Joan Sorley with the working group explains that is not the case.
"It's actually a tiny bit smaller. I guess it looks bigger because the water is right to the top,because it's so bright in there. I'm not sure why…"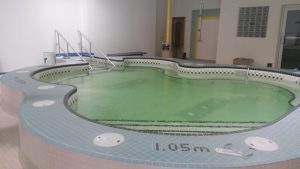 Sorley does note however that the hot-tub which is accessible friendly is much larger than before, as well as the fitness center which it was revealed by Geoff Paynton, Director of Community Services had received a donation of Apex Equipment from a citizen who wishes to remain anonymous.
Phase I is anticipated to officially open to the public later this month.
"We're getting the health inspection on June the 13th so then it's just a matter of time after that to get the permit," says Sorley.
"We don't know how long that takes, but we're pretty sure it will be a matter of days."