A new multi-tenant retail building could soon be developed at 1185 Prosperity Way in Williams Lake.
Williams Lake City Council approved the recommendation Tuesday evening to accept the development permit application from Platform Properties Ltd. for the development of a new 8,320 sq ft retail building and to direct staff to distribute notification of the development permit to the surrounding property owners and tenants within a 100-metre radius.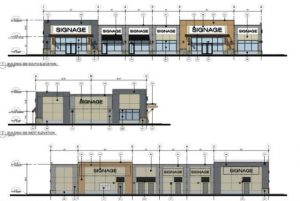 The proposed development according to a report by the City's Development Services Technician is part of a master scheme that includes multiple phases, and that the overall form and character of the building will reflect the current form and character expressed in the existing Prosperity Ridge Shopping Centre Development.
"In my opinion this is one of many more that will be  coming to that area so this is definitely good news for Williams lake," said Councillor Scott Nelson who noted that when Council took the initiative two and a half years ago to create a more positive working environment, one of the first things that they did was lift restrictive covenants.
Final consideration and approval for the new building is tentatively scheduled for June 20, 2017.