Community organizations and volunteers gathered at the Canadian Tire parking lot in Williams Lake Saturday morning to promote safe bicycle riding habits to children.
Suzanne Cochrane is the recreation programmer for the City.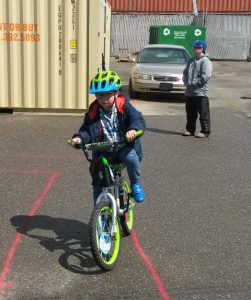 "We see a lot of returnees come here because they've out grown helmets and just people that come here every year. It's kind of like the kickoff to the biking season for younger kids just to help make sure that it's fun."
"Success by 6 sponsors the event and pays for all the helmets. McDonald's provides funding to put on the whole event and Canadian Tire is involved with their parking lot and a donation of prizes. It's a real community spirit."
Cochrane adds that Red Shreds, Community Policing, the Boys and Girls Club, and Youth for Christ were on hand as well as the Cariboo Chilcotin Conservation Society with their bikes for all program.
She says nursing students volunteered for this year's bicycle rodeo also.
This year's bike rodeo featured a course with a series of eight safety stations with bicycle safety inspection one of the stops on the course.
Professionals also checked children's bike helmets to make sure they fit and were being worn properly.
The event wrapped up in the afternoon with about 125 children having taken part.