Twenty-four high school students will have their last day being on the site of Centennial Gravel Pit in part of this year's Heavy Metal Rocks in Williams Lake.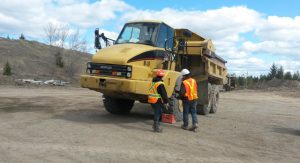 "I've learned lots of things and valuable things," says Grade 12 student Madi Jasper.  "Just about the safety and how to operate all of the equipment."
Grade 11 student Ian Schwalm adds that it's pretty fun.
"I'd love to do it next year. I'm hoping to become a heavy duty mechanic so I'm hoping to fix all these."
Coordinator of career programs for School District 27 Dave Corbett, adds that as students gain hands-on experience with different types of heavy machinery while learning the importance of safety, they're meeting the standards and starting to accomplish the goals of reclaiming the site.
"So one of our partners West Fraser sawmills, they've been able to work through the permissions and take a small perimeter of the trees off the slope to allow us to develop the right grade in the reclamation process. So that's very exciting to have the logging operation happening this year also."
Corbett says the students will have three more rotations on their schedule today before showcasing to their parents all of what goes on at noon with industry handing out some trophies, as well as scholarships and bursaries.
Although Corbett said in a previous interview that this is the 8th year of Heavy Metal Rocks, he corrected on Friday that this is actually the 7th year which the program has been offered to students from School District 27 with many local companies donating time, equipment, and food services.