Flags were flown at half-mast outside Williams Lake City Hall as wreaths were laid at the cenotaph in part of today's National Day of Mourning.
Outside of the City on Bond Lake Road, students taking part in this year's Heavy Metal Rocks at Centennial Gravel Pit removed their hard hats for a minute of silence.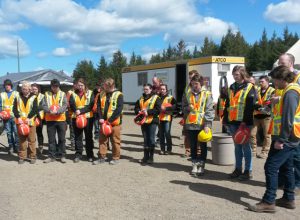 Dave Corbett is the Coordinator of Career Programs with School District No. 27.
"With WorkSafe, we wanted to take this moment as April 28th but a big focus, of course, is our young workers," Corbett said.
"It's a WorkSafe goal and our goal as a school District is that our future will be better than the past and so taking and training these young people and teaching them the skills and the things we have learned, the standards that we have come to to protect workers is really key."
"We took a moment today, looking at the losses and it's not too far away from any of us and our families. We recognize this and we all hope for a better future."
Of the 144 worker related deaths recorded last year in BC, five of them were of young workers with 85 due to occupational disease mainly from the exposure of asbestos.