NDP Leader John Horgan took aim at Christy Clark and the BC Liberal Government's record on education during a campaign stop in Quesnel this afternoon.
Horgan, not so ironically, was speaking outside the now closed Ecole Baker Elementary School…
"I believe what we need in BC is a government that is focused on public education and cares about kids and classrooms. The BC Liberals spent millions of dollars in court instead of putting those millions of dollars in the classrooms, in schools like Baker right here in Quesnel."
Horgan also criticized the Liberals for forcing the Quesnel School Board into a corner and potentially having to close three schools and then coming in at the last minute with money for two of them.
He says the NDP is committed to coming up with a funding formula that works for school districts of all sizes so that schools don't have to be closed.
Horgan was also critical of Christy Clark on the softwood lumber file…
"There was a deal on the table, it wasn't satisfactory, the government walked away. I believe if you are going to get a negotiated settlement you got to keep at it. I believe we would have had a better opportunity with MR. Obama, the BC Liberals or the negotiators at the time, decided to gamble on Mr. Trump and now we've got a 20 percent duty in place with potentially more to come in June."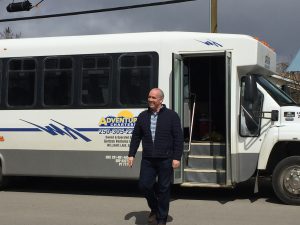 Horgan says any negotiation he's ever been involved in ends when the two parties walk away.
He would have preferred that they continue to go back and fourth until you get something that is agreeable to both sides.