Mr Mikes will soon be opening their doors in Williams Lake.
President of the company, Darren Flintoff says they have a tentative opening date of June 12, 2017.
"I think we're ahead of schedule, we just don't want to move the opening any earlier because there's a lot of dates with 9 other restaurants. We're busy delivering on those as well."
Flintoff says a roof top patio will not be happening right away as the permitting was slowing them down and they wanted to keep forging ahead with the restaurant side.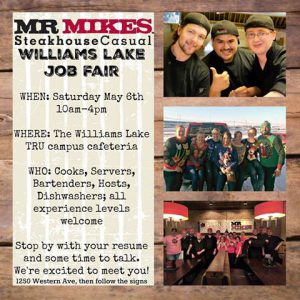 He says they will be looking at that at a later point.
"There'll be a meeting space which some restaurants have, some don't. We're not really a cookie cutter square box concept. We think we got a pretty neat site downtown there on the corner. Our managers are together training right now so they're looking forward to it. I think we're going to do the community very well."
A job fair for the casual steakhouse is set to take place on May 6.
Flintoff says they hoping to hire more than 80 people.