A Grade 9 Student in Williams Lake has added a gold medal to her collection following last weekend's Wrestling Canada Lutte Championships in Windsor, Ontario.
Tyleen Sciano placed first in the 46kg freestyle division.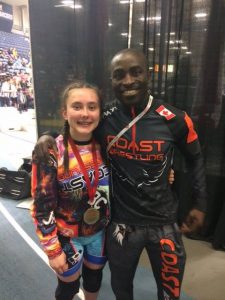 She says she was super nervous on the day of the event and that she was very surprised on her win.
She says she's looking forward to continue playing hard and even placed second in the world tryouts the following day.
She sent thanks out to her parents and her coaches.
Her mom Laura adds that they had received lots of community support.
"We did a fundraiser just before we went. I was expecting about 30 people and we ended up accomplishing 50 people that ended up coming and we got a bunch of silent auction stuff from the businesses around the community."
"We did absolutely wonderful at that. We raised quite a bit of money and we were able to go."