Broken glass was what the owners of the Realm of Toys in Williams Lake were called to early this morning.
Co-owners Jazmyn and Joan Douillard says it was the same reaction they had last week when a similar incident occurred-frustration, anger, and surprise but at the same time gratefulness that the suspects did not manage to get inside.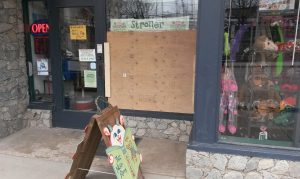 "It sounds like a cop happened to be driving by when it happened so it was sheer luck that we got the call. So we came down at 5 o'clock in the morning to try and clean up some of the glass and get the brick away from the window so no one has a second shot at it. Lake City Glass has been awesome. They were out here first thing and they boarded up the window for us."
Jazmyn and Joan say they have received tons of community support with customers bringing in flowers, coffees and muffins, and even money to help replace the window.
They say although they feel awkward accepting anything they are grateful because it is not covered by insurance.
The cost to replace the window is estimated to be $1600.
Anyone with any information is asked to contact Williams Lake RCMP.