Minister of State for Rural Economic Development Donna Barnett announced $2.2 million dollars in funding Friday to help replace damaged fencing on Provincial Crown Land in the South Cariboo and across BC.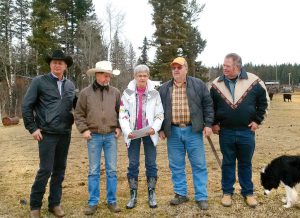 The funding will be administered over the next 3 years through a partnership with the Ministry of Forests, Lands and Natural Resource Operations and the BC Cattlemen's Association.
There are currently thousands of kilometers of fences on provincial Crown land in deteriorating condition and existing tenure holders sometimes have a hard time keeping livestock within their assigned areas.
"Stewardship of Crown land is a responsibility that the ranchers of B.C. take seriously and we are proud to do it. The infrastructure required to properly manage this invaluable resource needs upgrading. Ensuring that we can continue to enhance the health of this land and its wildlife requires ongoing investment in infrastructure. The funding announced today will build on the partnership between the government and the cattlemen of B.C. and this investment will go a long way toward keeping our rangelands robust," said general manager of the BC Cattlemen's Association, Kevin Boon.