With budget 2017, the provincial government is supporting planning for the redevelopment and expansion of the Cariboo Memorial Hospital in Williams Lake.
Health Minister Terry Lake made the announcement Thursday morning in a packed room of local first nations, seniors, and government officials at Deni House.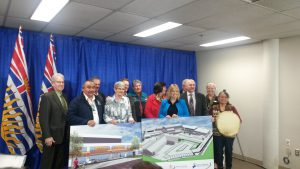 "I had the opportunity to tour the hospital in 2015 and was able to see first-hand the need for renewal. The planned redevelopment is great news for this community and will benefit patients, staff and visitors to the hospital for decades to come."
"The Ministry of Health currently has the concept plan before us. That concept plan is in the last stages of its' review and then we will move on from there to go into a business plan probably in the fall of 2017."
Lake says although he has been reminded by local MLA Donna Barnett that he has been the fourth health minister that has said something needs to be done about the hospital, it's very important that people understand the way they move things forward.
Once the concept plan is approved by government, the next step will be preparing a business plan that will focus on cost and services of a new facility. The ministry expects work on the business plan could begin in fall 2017. This process is expected to take 12 to 18 months, and would be followed by procurement and construction.
"That sounds like a long way off, but when I think back to our first work on Royal Inland Hospital that was back in 2008. Here we are in 2017 with the business plan approved, and probably 3 years from now we'll be substantially on our way to seeing that tower complete and it goes by very, very quickly."
Cariboo Memorial Hospital and Health Centre was built in 1963. It has 28 beds and provides an emergency room, intensive care, operating room and obstetrical units. The centre also has lab and diagnostic imaging and an outpatient hemodialysis unit.