A total of 102 deaths across the province can be attributed to illicit drug use last month.
The BC Coroners Service confirmed the data results today and says that although the number of drug deaths have decreased slightly for the second month in a row (112 deaths recorded in January), it is still far higher than for the same period last year.
"While I'm very relieved to see that the numbers have not continued to increase over the last two months, we are still losing cherished members of our communities at a terrible rate. People are dying in far higher numbers than we've ever seen, and a slight decrease in fatalities from the previous month should not be seen as any indication that the risk has decreased," says Chief coroner Lisa Lapointe.
In contrast, there were 59 illicit drug-related deaths in February 2016.
Vancouver, Surrey, and Kelowna saw the highest number of deaths.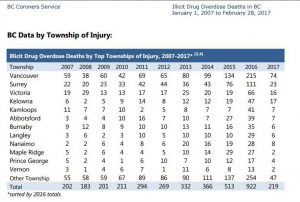 Individuals aged 30-39 and 40-49 years have accounted for the largest percentage of illicit drug overdose deaths during the first two months of 2017. Consistent with last year's data, males accounted for 83.1% of these suspected illicit drug overdose deaths.
The illicit drug overdose category includes:
Street drugs (Controlled and illegal drugs: heroin, cocaine, MDMA, methamphetamine, illicit
fentanyl etc.)
 Medications not prescribed to the decedent but obtained/purchased on the street or from
unknown means
Origin of drug not known or combinations of the above