A team that trains in swiftwater, auto extrication, snowmobiling, and more held a recruitment drive in Williams Lake on Saturday.
"It was good. We had a good turnout. I think about 6 folks showed up and took applications with them and we're happy with that," says Central Cariboo Search and Rescue volunteer Robin McCullough.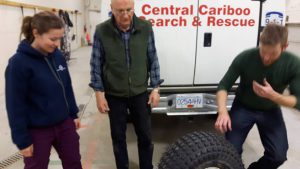 McCullough says anyone who was unable to attend the drive but may still be interested in joining can stop by their hall located at 1110 Mackenzie Ave N. Tuesday or Thursday night.
She says they will be holding a GSR course in which you can learn what it means to be a volunteer with the land search and rescue side of things at the end of April.
Over the past year, Central Cariboo Search and Rescue have responded to 170 motor vehicle incidents with their extrication team and 45 land search and rescue tasks consisting of missing persons and water related incidents.