The Indigenous Teacher Education Program is exploring the opportunity of opening a field centre in the Williams Lake or Quesnel area.
Assistant Director of NITEP, Jessica La Rochelle says they have had interest from the communities for a number of years.
"People have been contacting us and asking about the potential for having our field centre there in the future. We did a call for proposals a few years ago, and we had some proposals from that area and right now we are just looking into the opportunity."
La Rochelle says the program which offers a 4-year bachelor of education degree for people of indigenous ancestry, allows students to stay in their home communities for the first 2-3 years to get the prerequisites required to complete the remaining 12 months at UBC.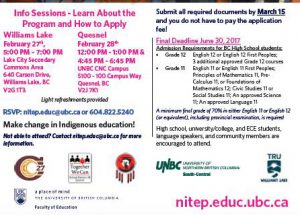 NITEP currently has field centres in Lillooet and Agassiz and will be holding information sessions in Williams Lake and Quesnel on February 27 & 28.
La Rochelle if there is enough interest and potential students, the field centre could open as early September 2017.