The Indian Residential School Survivors Society (IRSSS) held a open house at their Williams Lake office located on 2nd Ave N Tuesday morning.
Cindy Tom-Lindley is the executive director.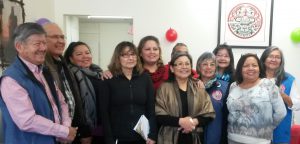 "It turned into being a sharing circle and that's a part of traditional beliefs and traditional healing process," she says of today's introductions. "It turned into people just wanted to share and just wanted to be heard."
Tom-Lindley says the IRSSS provides service to residential school survivors and inter-generational survivors at 8 offices located throughout the province.
She says the Society was closed for close to over a year before returning to Williams Lake.
"I think that we'll be receiving a lot of drop in clients, and a lot of people that may of not really thought they would access or utilize our services."
Tom-Lindley says two staff members, a certified therapist and a resolutions health support worker, as well as an Elder will be working out of the Williams Lake office.