Every province and territory, 41 states and 97 countries.
That sums up the 2,652 pieces of mail that is a part of the 25th annual Gold Rush Trail Sled Dog Mail Run that got underway this morning at 11 o'clock at Umity Pit.
The mushers were sworn in at 9 o'clock this morning at the post office in downtown Quesnel.
The teams will head to Troll Ski Resort tomorrow where there will be a number of events such as free dogsled rides, a demonstration weight pull, entertainment and a banquet.
The event will then wrap up on Sunday in Barkerville with a dash from Wells.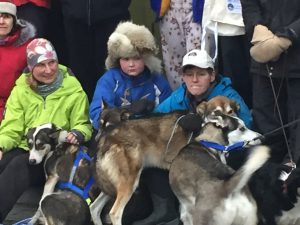 Getting back to the mail that the dog teams will be carrying.
Some of the countries that are represented are Latvia, Serbia, Germany, England, Papua New Guinea and Jamaica.