A family on Dog Creek Rd. in Williams Lake says their Christmas is ruined after an alleged drunk and speeding driver crashed into their home.
Mobile home renter, Amanda Lyons says she and her family were inside when the crash happened at 11 pm Wednesday evening.
"You could hear it coming down the road, but when it crashed it was a different story."
As Lyons worked to pick up the damage left from the incident with her family Thursday afternoon, she says Christmas is definitely ruined.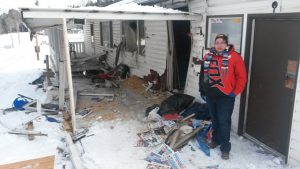 "We've lost a lot of Christmas gifts and most of our stuff is going to have to be left behind because I don't know if this place is going to be condemned or what."
Neighbor Erin Graham who caught the entire incident on video surveillance says speed is a regular problem.
"A lot people don't seem to consider the fact that there's people in their homes and there's children and other pedestrians that are walking down Dog Creek Rd on a regular basis and these corners are not meant for speed."
Williams Lake RCMP say the male suspect who was driving over the legal limit was taken into custody and later released on promise to appear in Court where charges of impaired driving have been recommended.
Lyons says her landlord has helped her in finding a new place up the hill from where the incident occurred.