The wheels have been in motion for some time now for one local man to put together a first ever event like this in Williams Lake.
John Paul Albinati is the organizer and President of the Local Chapter of Bikers Against Child Abuse.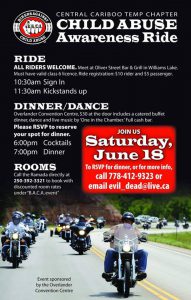 "We have a child abuse awareness ride coming up on June 18th. We want to promote obliviously awareness of the epidemic that it is and we want to bring this kind of thing to light to kind of help put a stop or slow at least to such a vile act."
Albinati says he was inspired to bring this child abuse awareness ride to Williams Lake after going on a similar one in the Fraser Valley last year where they had hundreds of bikes taking part and everyone was open to hear the message it was trying to deliver.