The Chief of the Williams Lake Indian Band says she's extremely proud of the community who showed up in large numbers for a community meeting Monday evening following an unfortunate incident.
In a media release Wednesday, Chief Ann Louie says she was hurt watching the videos circulating on social media of the 3 day demonstration at the Band Office, while she was away from the community on vacation.
"Those videos clearly show how our Elders were assaulted and abused when they attempted to re-enter the WLIB administration building. Those Elders were beaten and berated because they chose to stand up for what they believe in and to enforce the rule of law. I am so proud of our Council members and Elders who showed great strength, courage and integrity throughout the ordeal."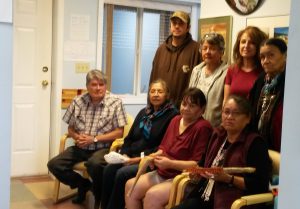 She adds that there was no need for the incident, and that the power exists under the Band's Land Code for community members to put together a petition that compels Council to consider a bylaw.
"It's disturbing to me that the driving force behind the forceful siege of our administration building was the desire to see the passage of a new bylaw…All protesters had to do was to use the tools we created for them as part of their government structure. Democracy is always far more powerful, and more effective, than violence or tyranny."
The Williams Lake Indian Band discussed the template "Band Membership Meeting Procedure Bylaw" proffered by the individuals orchestrating the  takeover of the WLIB administration offices at Monday's meeting.
The draft bylaw will now be considered by Council and subjected to legal review.
A full police investigation of last week's administrative office takeover is ongoing.