Students will be wrapping up their lesson in Heavy Metals at Centennial Gravel Pit in Williams Lake.
Beamac crane operator, Cary Olson was just one of the many employers on site mentoring students Friday.
"I really wish we had it when I went to high school, but I'm getting up there now so it's a new involvement with the kids. I think it's great-there's no better learning than hands-on learning that's for sure."
Being instructed by Olsen was Lake City Secondary Grade 12 student, Magnus Satre.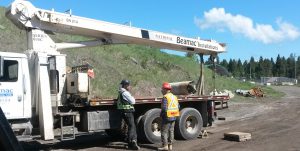 "It's a really cool experience getting the hands-on with a bunch of different equipment. Totally opened a whole new perspective on lots of trades, lots of people, lots of different jobs, and their thoughts on it and stuff like that."
Satre says he plans on entering the trades and do some excavation work.
"I think it's awesome," says West Fraser Operations Supervisor Amanda Black who bought into the program this year joining Tolko. "It's a great experience for the kids to learn and see the opportunities that they have with the different pieces of equipment they have with mining and forestry."
This is the sixth year students from School District 27 took to Centennial Pit for hands-on experience with heavy equipment from local companies.
The Heavy Metals Program wraps up with an awards ceremony for the 23 students and their parents today.