While wildfires rage in BC's Peace Region and Alberta, the Prince George RCMP are still looking for the person responsible for a massive wildfire that sparked nearly a year ago.
The Bobtail Lake wildfire originated about 50 kilometres southwest of the city, and went on to burn 24,000 hectares (240 square kilometres). Residences at Norman and Bobtail Lakes were evacuated as a result and it took weeks for firefighters to gain control of the blaze.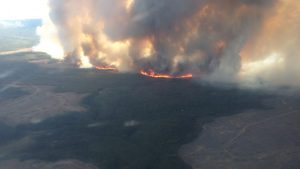 The RCMP and Origin & Cause Investigators from the Wildfire Management Branch of the BC Ministry of Forests, Lands & Natural Resource Operations have been investigating and can confirm that the wildfire was human caused.
"We are confident that there are persons with information about this fire that have not come forward to speak to investigators" says Cpl. Craig Douglass, spokesperson for the Prince George RCMP. "Their information may be the piece of the puzzle that we need to bring the person or persons responsible to justice."
Under the BC Wildfire Act, a person convicted of starting a wildfire may have to repay all the costs of battling the fire. Significant fines and prison is also a possibility.
Aerial footage of the damage caused by the wildfire can be viewed below.