A public health emergency has been declared in response to a steady rise in drug overdoses in BC.
Provincial Health Officer Dr. Perry Kendall minced no words in making the announcement this morning.
"This is frankly a crisis. I am acting under the emergency provisions, Section 52 of the Public Health Act of British Columbia, to provide notice that this meets the criteria as a regional event of provincial scope. In other words, it is a public health emergency."
This is the first time a Provincial Health Officer has exercised the Public Health Act's emergency powers.
Dr. Kendall says he has "watched in dismay" as the number of overdose deaths in the province has climbed every year since 2010.
"So far this year, the coroner reports 201 illicit overdose deaths, 64 of which were associated with fentanyl. In 2010, we had 211 deaths and in 2015 – 474."
According to the BC Coroner's officer, almost twice as many people in BC died from overdoses as were killed in car accidents in 2015. Dr. Kendall says, given the current number of fatalities, BC could see 700-800 overdose deaths this year.
He says the current crisis demands emergency action.
"In consultation with my colleagues in public health, we've determined that, in order to assist us in providing an enhanced response, a key need is more information and more detailed information on the who, the where, the when of these tragic incidents," says Kendall. "We're doing it now because of the consistently increasing numbers of deaths and the increasing numbers of deaths associated with fentanyl despite a number of programs that we have put in place over the last few years."
These include Good Samaritan laws, the re-classification of the overdose countering drug naloxone from a prescription to an over the counter medication and the provision of free naloxone kits to health care workers and drug users.
"People who use opioids and have overdose response training can receive take home naloxone kits at no cost, says Health Minister Terry Lake."Training and those kits are available at more than 160 sites across the province."
Dr. Kendall says it's not just opioid users who need to be wary of fentanyl.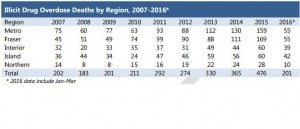 "Fentanyl has turned up in drugs that are being sold as amphetamines, as cocaine. I've even heard of it being mixed in with cannabis. So use very cautiously."
Currently, the province only collects data on fatal overdoses. Dr. Kendall's declaration of a state of emergency will have emergency personnel and health care workers collecting data on all overdoses. The information gathered will include the location of the overdose, drugs used and how they were taken.
When asked about privacy considerations, Dr. Kendall said he has already consulted with the province's Privacy Commissioner and that the data collection will be similar to another system that's been in use in the province for decades.
"We've been collecting data on communicable, reportable diseases for 40 plus years. We'd be treating it in the same way," says Kendall. "We get the information, it's confidential, it's used for programming purposes and we can also look at it at the provincial level to get a picture of what's happening across the province."
Dr. Kendall says that picture will inform the deployment of resources such as naloxone kits, as well as targeted outreach, bad drug warnings and awareness campaigns.
(Files from Shannon Waters with My Prince George Now)