The Williams Lake Fire Department responded to a blaze at the Slumber Lodge on Easter Sunday.
"We're going to be here for a little bit yet, trying to get a hold of this fire," says Fire Chief Des Webster who added they got the call around 12:30 pm.
"There's nothing in the building at this point turned on, so we're pretty sure it's deliberately set. There was a door kicked in the back alley where the majority of the flames started when we first got here."
The largest of the three buildings were completely destroyed.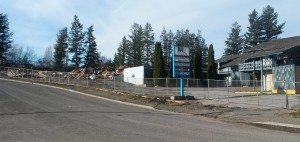 The owner who had appealed a City-issued demolition order in June 2015 had hired a local electrical company to have power fully restored.
Council had recently extended the demolition order for the property which has been boarded up for nearly four years until October 2016.