Neighbors and friends stood in disbelief and shock as thick heavy smoke billowed outside of a mobile home at Green Acres Trailer Park near 10 this morning.
Standing further in the background was homeowner Jack Hilton with his neighbor Lynn Geier.
Geier says she saw the shed on fire, with the flames just starting to edge their way towards Hilton's home.
She called 911.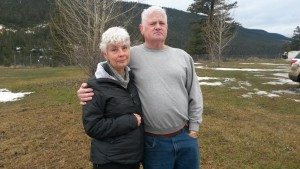 "As soon as I noticed it I just got dressed very quickly and then policemen knocked on my door and told me to move me and my dog out."
Jack, was in the home with his wife Carol at the time and were both able to run out.
Crews from the Williams Lake Fire Department worked three and a half hours to extinguish the blaze which completely destroyed the home.
The cause remains under investigation.